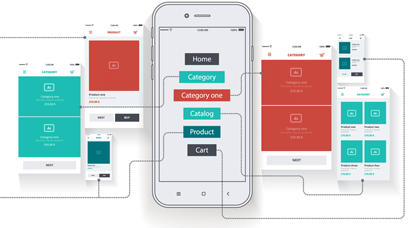 Our experience allows our full-stack engineers to tailor projects specifically for our clients and create digital products that fill their needs.
We gathered enough knowledge to share with you. Enough to provide you with detailed custom software development consulting.
Engineering mindset is never been as useful as while developing custom software. And you'll see why.
What is custom software development?
Сustom software development is the process of creating software that is specifically tailored for the specific group of users or an organization. Custom software is made to ensure that all your particular requirements are met.
An interesting fact that custom software is usually a legacy software, developed before commercial software or free software packages offering the required functionality became available. It was developed before off-the-shelf solutions gained its popularity for the mass software market.
That's why custom software development services are usually contrasted to off-the-shelf software in terms of use and fields of use. Earlier it was something developed for the concrete user with the concrete requirements that are not really flexible to change but based on very reliable solutions that work properly doesn't matter the conditions. Custom software development or off-the-shelf?
Let's make the difference between custom software development and generic software development clear by contrasting both in out material Custom software development vs. Generic software development. Custom software development service accommodates a particular customer's preferences and expectations. That is why it is considered more efficient. Sometimes, of course, more expensive, but the benefits it might bring are really worth it.
Provendw is here in custom software development since 2014. We provide complex custom software development services for different industries. Basically, by offering custom software development we can also mean:
Develop software from scratch (actually, that is exactly the same as custom software development).
Design IT infrastructure architecture.
Integrate into a currently running project (our experience allows our full-stack developers to jump in and help you despite the fact that we haven't created the original version).
Run tests to assure the quality of a product;
Move legacy system to a new platform.
Provide maintenance.